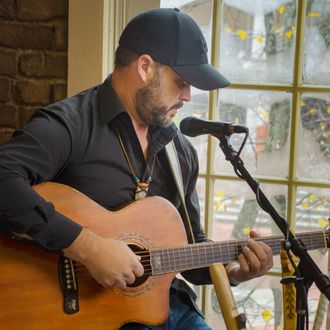 All donations are greatly appreciated.
Thank you for all your prayers and support. Your gift is what keeps the lights on as Robby travels to spread the gospel through his music. Click the Donate button below, or you can mail your gift to Beyond The Veil Ministry, PO Box 5605, Cleveland, TN 37320.
Enter the amount you wish to donate

About:  
Robby Cummings
Robby is an anointed singer/songwriter and musician whose call is to lead worship. With an overwhelming sense of adoration, Robby will bring you into the presence of the Father where healing, restoration, peace, and joy flow freely. For believers with ears to hear, Robby ignites a passion for the secret place of the Most High God. For those whose hearts may have grown cold or distant, Robby's voice rings with a holy calling of the Spirit, crying out, "come back home." Robby and his band minister to God's people through inspirational song, instrumental spontaneity and the spoken word. Robby's Native American ancestry has also impacted his music and ministry. With Cherokee lineage on his mother's side and Lumbee lineage from his father's side, Robby carries a special passion for his heritage. Robby and his wife Lindsy have led worship at numerous Native American gatherings in cities and tribal communities across the United States and Canada. He is known for carrying the sound of the redeemed warrior Bride of Yeshua with much affection and zeal, anticipating His soon return.